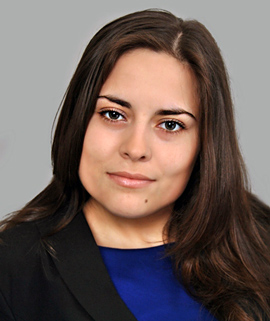 Krasimira Paunina, CFA
CEO, Select Asset Management
In 2012 Krasimira Paunina started her professional path as a financial analyst at Select Asset Management EAD – a distinguished Bulgarian asset management company, part of the top asset management companies in Bulgaria ranked by assets under management (AUM) as of October 2020. She was shortly promoted as a portfolio manager of the four mutual funds managed by the Company with almost 23 M EUR total net AUM as of 31st October 2020. From October 2016 to February 2020 Krasimira was the Head of Portfolio Management at Select Asset Management. Most of the funds have investment focus on the CEE region, especially on Bulgaria.
Since February 2020 Krasimira has been appointed as CEO and Board Member at Select Asset Management. Currently she sits on the Investment committee which supervises the investments of the mutual funds of the Company.
Krasimira Paunina graduated with honors in Finance (Bachelor's degree – 2012) and Financial Management (Master's degree – 2013) from the University of National and World Economy (UNWE). Her main interests are in investments, global capital markets and behavioral finance. As part of her desire to develop her professional skills, in 2013 she obtained a license for Investment Consultant from the Bulgarian Financial Supervision Commission. In 2016 she became a CFA Charterholder. Since 2018 Paunina is a lecturer and an academic coordinator at the Investments Summer School, powered by the Atanas Burov Foundation. Krasimira is a very proactive and communicative person, engaged in promoting financial literacy of young people.